If you are an employee, what steps can an employer take to prevent you from working at a similar job elsewhere in the future?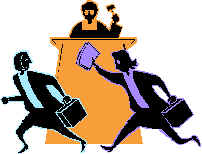 If you are an employer, what steps can you take to prevent an employee leaving your employment to work in competition elsewhere?
A restraint of trade clause must be clearly distinguished from the claim which may be made by an employer against a former employee taking trade secrets or breaching the intellectual property rights of the employer.
There does not have to be a restraint of trade clause in the contract of employment to allow the employer to take action against an ex employee in those circumstances.
Restraint of trade clauses are becoming increasingly common in employment contracts.
A typical clause will prohibit a former employee from working in a specific area of employment in a specific geographical area for a limited period of time. These clauses are enforced by suing the ex-employee seeking an order from the Court preventing the employee from carrying out that work.
TWO EXAMPLES
If a person was employed as a basic labourer in a factory job and left to work as a labourer in another factory, then a Court would simply not enforce any restraint of trade clause against employee in those simple circumstances.
On the other hand, if an employer was building up a particular business in an area, establishing clientele and using the employee to establish or develop those clients, then a reasonable restraint of trade clause for a reasonable period of time would very likely be enforced.
The purpose of a restraint of trade clause is to prevent the employee from later using the employer's trade secrets or confidential information to aid one of the employer's competitors.
Post employment obligations, particularly restraint of trade clauses, are appearing more and more frequently in graduate employment contracts. What are restraint of trade clauses?
A restraint of trade clause is a prohibition or a limitation on the freedom of a professional to change jobs. A restraint clause may seek to limit the geographic area you can work in, or to restrict you from working for a specific company.
A broad restraint clause might provide that :
.....The first part of this topic has been displayed free of charge. Join up for $45 to have access to this and all other topics!