This is a very important piece of legislation to understand if you are a builder or a supplier or subcontractor in the building industry.
We don't want you to lose money.
We will give you a full overview of the legislation, full access to the new Act and a number of useful tips so that you can become fully familiar with this new law.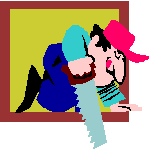 The Act came into force on April 1, 2003.
There are three main objectives to the Act. These are :
to facilitate regular and timely payment between the parties to a construction contract.
to provide for the speedy resolution of disputes arising under a construction contract.
to provide remedies for the recovery of payments under construction contract.
We provide you with a direct link . . . .

We also provide you with a direct link to the Government legislation site where you can look up ALL Acts of Parliament and Regulations and Rules. An Act is also known as a Statute. A Regulation is also sometimes known as a Rule. This Government legislation site is still going through some teething problems. But you will be able to access all legislation and find specific Acts and Rules and individual sections.
Statutes
Statutory Regulations
Local & Private Acts
We suggest that you skim read the Act first then return to this page. For your convenience, we will repeat the direct link as well at the bottom of this page.

. . . . the full Regulations
The Act states that there is now to be no legal effect to what have become known as "conditional payment" provisions. These provisions are withou
.....The first part of this topic has been displayed free of charge. Join up for $45 to have access to this and all other topics!