What About A Citizen's Arrest?
The power to make a citizen's arrest or to be arrested by a citizen still remains in New Zealand. It is part of our Crimes Act 1961
Basically, a citizen's arrest can be made for anyone committing any crime at night, or anyone committing a crime punishable by more than three years imprisonment as a maximum penalty during the day.
You have to be very careful in exercising your rights as a citizen to make an arrest.
It is far better to retreat and call the Police but if you saw some one committing a fairly major crime then you can arrest them and use reasonable force to hold them provided that you deliver them to a Police Officer as soon as possible.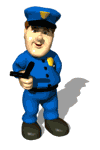 But you must take care!
If you saw some one shoplifting at night then that is the crime of theft and you would be able to arrest them. But if you saw some one shoplifting during the day then you would have to stop and consider the value of the item that was being stolen.
If it was less than $300 then the thief is only liable to up to three months imprisonment.
If the value was between $300 - $1000 then the thief is liable to only 12 months imprisonment. If the value of the item stolen was more than $1000 then the thief is liable to up to 7 years imprisonment.
Consequently, you could only use a citizen's power of arrest if the thief was stealing something over $300.
However, if the theft was theft as a servant, or out of a car or a receptacle such as a locked box then the maximum penalty is seven years imprisonment and the arrest can be made by a citizen at any time of the day or night.
It is a complicated procedure. You should know that you have this power. You should know that this power can be exercised against you.
But do not exercise such a power yourself unless you are absolutely certain that it is the right thing to do.
If you can retreat and summons Police interven
.....The first part of this topic has been displayed free of charge. Join up for $45 to have access to this and all other topics!