This topic gives you a full overview about suing people and directs you to many other relevant topics on this site.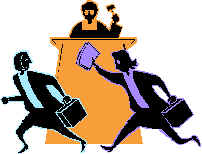 You need to know how you can sue and what documents to use.
There are a number of Index topics on NetLaw which deal with civil law claims.
Make sure you go through the Civil Law Index at the top of this page carefully because there are many topics which should meet your need for information to cover your particular legal problem.
We then suggest that you visit the following Index Sites:
All can be accessed through the boxes at the top and the bottom of this page.
Firstly, if you click on to Civil Law Index button at the top of Homepage then you will receive an overview of the information you will require.
Secondly, you can look at all the related topics in the box above by simply clicking on for direct access. Also, we advise that you scan through our full Master Index looking for topics that might assist.
Thirdly, you can then click on to the Index Site entitled Cause of Action and you will receive a lot more information on that site.
Fourthly, you can then visit the site entitled - Debt Collection
Fifthly, you can visit the Site entitled - Disputes Tribunal

.....The first part of this topic has been displayed free of charge. Join up for $45 to have access to this and all other topics!